We love to dance, we love to perform and we love to have fun!
Welcoming everyone into our AVR community is paramount to our success, we enjoy nurturing talent from an early age and seeing our students grow into strong, confident and polite adults.
Contact AVR and develop your future…
Why

AVR

Dance

&

Performing

Arts?
You want the best for your child and so do we!
At AVR DANCE & Performing Arts we strive to equip our students with the skills they will need to fulfil their dreams and ambitions, by instilling values that go beyond the classroom.
We realise that not every student will prusue a career in the performing arts but we believe that the skills developed through learning to dance will last a lifetime and give every student the edge in whatever career they chose.
In our well structured and dynamic classes our students will not only benefit from a wealth of knowledge delivered by our highly qualified and experienced teachers, they will:
Make friendships that last a lifetime
Have fun & feel part of the AVR family
Develop poise, good posture & fitness
Improve flexibilty, strength, balance, co-ordination & endurance
Understand the importance of having a strong foundation; mastering core techniques & new skills.
Learn discipline, resilience & perserverance
Leadership, Ownership & Strong Work Ethic 0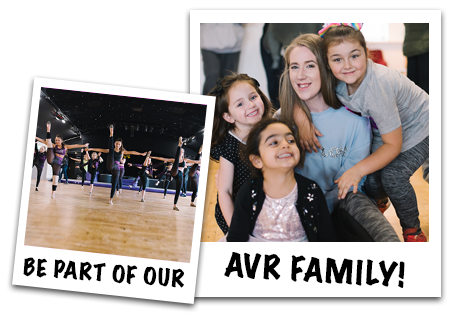 We
have
classes
for
everyone
and
for
all
ages!
From singing and acting at 3 years old to tap dancing at 80,
AVR dance has a class for you. If you can't find the class for you on here please
call us and one of our friendly staff will be able to guide you in the right way.